The A B C of Carnival – Words you need to know to celebrate Carnival in Cologne
Carnival in Cologne is one of Europe's most colorful and exuberant social events. As the second largest carnival in the world, hundreds of thousands of people from across the globe come to Cologne every year to celebrate the 5th season together. But for those who have never celebrated Cologne Carnival, it can be one thing above all: confusing.
The scale and excitement of one of the world's most colorful events can be overwhelming. People are  dressed in costume, numerous authorities appear to play significant, but undecipherable roles, , and the atmosphere is characterized by a cacophony of terms in dialect and chants  that everyone seems to know. How can an outsider make sense of it all? 
Each of these treasured traditions helps to shape this unforgettable experience. And in true Carnival spirit, they are meant to be shared. We've put together some of the important terms you need to know to get the most out of the event and  celebrate Cologne Carnival like a local!
Fastelovend or Fasteleer 
In Cologne, most people say carnival, Fastelovend or also Fasteleer which is the Cologne description for the festivities that take place on Carnival days. The term goes back to the Alemannic "Fastnacht". This term is already very old and goes back to the 40-day fasting period that follows Carnival. Fastelovend means "the evening before Lent". However, it is often used to refer to the entire carnival season.
Alaaf! 
Alaaf comes from the Cologne language (Kölsch) and is the Rhenish carnival greeting. It is usually accompanied by the name of the city "Kölle Alaaf". However, this must never be confused with the Düsseldorf "Helau". 
Aalaf comes from the Kölsch "all af" and means as much as "over everything" or also "everything else away". The triple call "Kölle alaaf" means something like "Cologne above all" or "All praise to Cologne".
You might hear this greeting used when a carnival group is welcomed on stage of a carnival event.
Bützchen / Bützje 
Carnival is truly a festival of Cologne's love of celebrating together. That's why so called "Bützchen" are given out again and again, to everyone! Bützchen t are big smooches. At carnival, festival goers can expect to get kissed (in Kölsch: "gebützt or to be correct "jebützt") in celebration! Bützchen are given on the cheek, on the mouth, to friends and to strangers, as Bützchen are a gesture of friendship and do not obligate to anything. Of course, you can also refuse a kiss, but this is considered impolite. 
Jeck
"Jeck" is probably the most used noun and adjective at carnival time.
A Jeck is a true friend of the carnival. Not only does he or she  like to celebrate carnival, but a true "jeck" is a humorous person who can be counted on  to have a little carnival fun. Importantly, Jecken should not be confused with carnivalists. Carnivalists, in contrast, are performers that participate on behalf of  the organized carnival festivities. 
The word "Jeck" can also be used as an adjective. Thus, someone who is "jeck" is a bit crazy, funny or does not take life too seriously.
The phrase "Jeder Jeck ist anders" can be translated in English as, "Everyone is different" is meant to express that everyone is allowed to be different –  and celebrate individual quirks and imperfections. The phrase  also represents the very tolerant mood that prevails during Carnival.
Kölsch
When people celebrate carnival in Cologne, there is one drink in particular that seems to characterize the celebration: the Kölsch beer. The special thing about Kölsch is that it can only be produced in Cologne and has a special brewing process. In addition, it has a long tradition because it is already brewed since 874 AD. At no other time of year is more Kölsch drunk in Cologne than at Carnival thanks to an unspoken law that proclaims nothing else may be served during the fifth season.
It's been estimated 30 million liters of Kölsch are consumed at Carnival – more than usual in an entire month (approx. 20 million liters).
D'r Zoch kütt
D´r Zoch kütt in Cologne dialect means "There comes the Carnival parade". One may hear this refrain often because visitors to the Cologne carnival can expect many parades to take place during the festivities!
The carnival parades you will see are organized by local delegations and carnival clubs and will include show wagons, marching bands, dance groups and often also so called motif wagons. These often reflect events and people of the past year in a satirical way. Perched high atop the beautiful and creative wagons, you will find costumed people who toss sweets (Kamelle) and roses (Strüssjer) to the crowd as the parade goes by. 
Carnival parades take place primarily on "Rosenmontag", for many the most important day of Carnival. The Rosenmontagszug parade is the biggest and most famous Carnival parade in Cologne. Finding a place to see it along its route is a highlight of any visitor of the Cologne Carnival. 
Fun fact: Up to a million visitors line the streets when more than 10,000 participants and around 100 Carnival wagons parade through Cologne's downtown area for the Rosenmontagszug parade.
Kamelle 
There's something every Carnival goer is hungering for alongside their Kolsch: Kamelle. When the carnival parade moves through the streets of Cologne and everyone shouts "Kamelle," in the hopes of receiving sweets from those riding atop the colorful parade wagons.. And not as the name suggests only caramels, but everything from chocolate to candy to gummy bears, which are thrown from the wagons or distributed by the "foot troops" of people who accompany the wagons on foot. Sometimes flowers, footballs, cuddly toys or handkerchiefs are thrown into the crowd alongside the traditional sweets. 
Carnival is an especially sweet time for children who make a point to stand in the front rows of the crowds during carnival parades  to collect as many Kamelle as they can!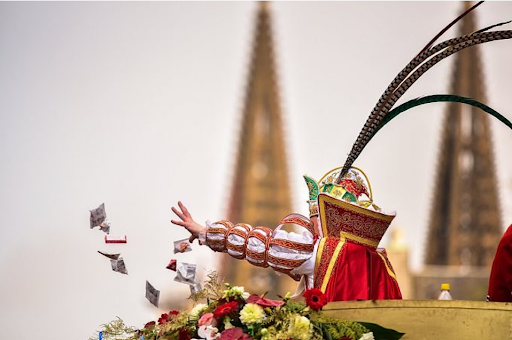 Strüssjer
For the grown-ups in the crowd, small bouquets of flowers, or "Strüßjer" are even more popular than Kamelle during the carnival parades. These small posies are similarly thrown from wagons during carnival parades or distributed by foot groups in response to calls for "Strüssjer" and "Kamelle". The people of Cologne like to use the distribution of the flowers often as a way to  approach other Jecken in exchange for Bützje.
Fun fact: according to estimates, carnivalists throw around 300,000 of these bouquets during the famous "Rosenmontagszug".
Schunkeln & danze 
All over Cologne you can hear Carnival music and see people dance ("danze") in the streets and in the pubs. But when a waltz is played, everyone joins together to schunkel. As soon as  one hears the unmistakable  beat of a  waltz, people hook their arms together and sway back and forth with the beat. This is called "schunkeln". Even when you don't know the person next to you you just grab their arm and go with it.
Are you ready to Carnival?
From this list, you see there are some terms and traditions that have an important meaning in the carnival time… But there are many more to discover! But with these terms you should be well prepared for now.
We hope that this small collection helps share some of the fun and exciting terms that make Cologne Carnival so special. With these terms you should be prepared to  find your way around and l have a lot of fun at Carnival.
Are you ready and excited to experience the Carnival magic for yourself? For the digitally minded– there's simply no better place than Jeck'n'Tech, the largest and most exuberant gatherings for tech and innovation enthusiasts at Carnival. Here, you have the chance to network and celebrate with hundreds of forward thinking Jecks in one of the world's most unforgettable events. Just like Carnival itself, you won't want to miss it. Just reach out to Miriam to find out how to join in 2023. 
See you there!